Walt Disney World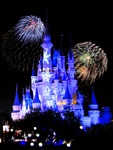 Click to View Gallery
I've always said that, aside from raw talent, one of the biggest secrets to being a good photographer is to take a lot of pictures. All you ever see are the good shots. They never tell you about the hundreds of lousy ones. Putting this theory to the test with a film camera can be an expensive proposition. However, with a digital camera it's a non-issue. One of my first trips with my new digital camera was to Orlando, Florida. I returned with over 400 photos and several were worth showing off.
A friend lives in Orlando so it's one of my favorite vacation destinations. This leaves me with more Kodak moments than I need to snap the usual shots. So, I decided on later trips to experiment. I tried shots from odd angles, night shots, available light indoor shots and took a few steps back to frame my shots with trees and other scenery. Instead of returning with less pictures each trip I just varied the subjects.
The picture on the right was a surprise. Although I thought another picture would be the "Picture of the Trip," this shot of snowflakes projected on Cinderella's Castle with fireworks in the background was the one that got the most attention. Funny thing is that the picture is a bit of a fraud!
Yes, I shot the photo. Actually, I shot all three of them. The castle was cropped from a distant view I shot from a bridge in Tomorrowland. The fireworks were actually shot two nights earlier from the balcony of the Contemporary Hotel. I put the pictures together in Photoshop. Now I know how those dramatic postcards are produced.
By the way, the picture I thought would be my big shot was a night shot of Spaceship Earth with the year 2000 attached to a wand in Mickey's hand. It is an nice picture and you can see it in the gallery, but it showed me not to jump to conclusions about the photos I've taken. My motto now is keep shooting and judge them all later.
Click on the picture to visit the gallery of Walt Disney World photos.