World Trade Center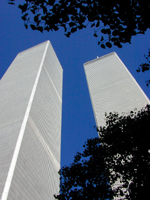 Click to View Gallery
Carrying a digital camera to work every day has its advantages. I'd always planned to go to certain places and get certain shots. "Someday," I'd say to myself, "I'll go there and shoot a bunch of pictures."
The problem with "someday" is that it may arrive after the subject is gone. This might have been the case with the World Trade Center. It wasn't until September 11, 2001 that I realized how many photos I had taken of the Twin Towers as well as shots of the surrounding area taken from my employer's offices on the 31st through 37th floors of Tower 2.
The photo at the right was taken in May, 2001. Normally, I go to work on the 1/9 subway which stopped below the complex. On this particular day I took the subway from Brooklyn which let me off on Broadway, a few blocks away. I was walking up to the plaza when I noticed how nice the towers looked framed by the trees. I unpacked my camera and snapped a few pictures. My friends tell me this is one of the best shots I've taken.
Click on the picture to visit the gallery of World Trade Center photos.